When copying onto special paper such as OHP transparencies, thick paper (postcards, envelopes, etc.), and adhesive label paper, select the type and size of paper.

Select tray 2, and then press the [
] key.

Select the paper type in Special Paper.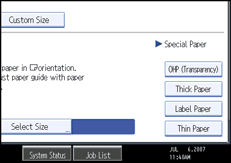 Specify the paper size, and then press [OK].

Place the originals, and then press the [Start] key.