Pick up the optional handset or the hand set of the external telephone and dial. If you hear a voice at the other end, continue conversation as normal.

Place the original, and then select the scan settings you require.

Pick up the handset.
You will hear a dial tone.

Dial.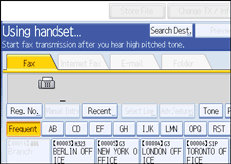 The machine immediately dials the destination.
If you make a mistake, replace the handset, and then try again from step 2.

When the line is connected and you hear a high-pitched tone, press the [Start] key to send your fax document.
If you hear a voice, tell the receiver that you want to send them a fax document (ask them to switch to facsimile mode).
Transmission starts.

Replace the handset.
If you want to cancel a transmission, press the [Clear/Stop] key, and then remove the originals.
After transmission, the standby display appears.