Make sure appears on the screen.
If any other function is displayed, press the [Copy] key on the left side of the control panel.
Initial copy screen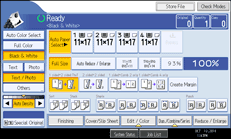 Make sure no previous settings remain.
When there are previous settings remaining, press the [Clear Modes] key.

Place the originals.

Make desired settings.

Enter the number of copies with the number keys.
The maximum copy quantity that can be set is 999.

Press the [Start] key.
The machine starts copying.
When placing originals on the exposure glass, press the [
] key after all originals are scanned.

When the copy job is finished, press the [Clear Modes] key to clear the settings.