In SADF mode, even when an original is placed page by page in the ADF, each page is automatically fed when placed.

Press [Special Original].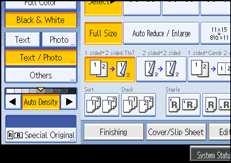 Select [SADF], and then press [OK].

Place one page of an original, and then press the [Start] key.

When the machine instructs you to place another original, place the next page.
The second and subsequent pages will be fed automatically without pressing the [Start] key.