Check the transmission results.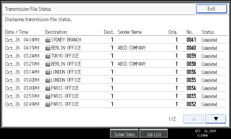 Transmission results are displayed, from the latest result down, in groups of nine.
When a fax is sent, "Destination" shows the Own Fax Number or Fax Header information of the receiver. When an Internet Fax or e-mail is sent, the e-mail address or name programmed in the destination list appears. For a transmission from a computer, "-- LAN-Fax -->" is shown.
Depending on security settings, the destination may appear as
.