Press [Change TX / Info].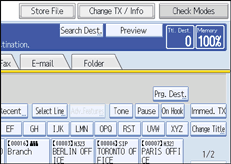 Press [Store / Delete / Print Information Box File].

Select the box in which you want to store the file.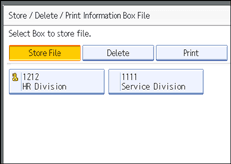 When there are pre-programmed files, a file mark appears to the left of the box name.
A message is displayed if you select a box with a file stored in it. Press [Yes] when changing the file. The stored original file is overwritten.

If a password has been set for the box, enter the password, and then press [OK].
If you make a mistake, press [Clear] before pressing [OK], and then try again.
To cancel entering a password, press [Cancel]. The display returns to that of step 3.

Place the original, and then select the scan settings you require.
You can also select the following settings:
Original Orientation

Original Settings

Stamp

Press the [Start] key.
The machine starts to scan the original.
To stop scanning, press [Stop]. The display returns to that of step 3.
To store a document in another Information Box, repeat from step 3.

Press [Exit] twice.
The standby display appears.