Sending at a Specific Time (Send Later)
Using this function, you can instruct the machine to delay transmission of your fax document until a specified later time.
This allows you to take advantage of off-peak telephone charges without having to be by the machine at the time.
If the machine is switched off for about one hour, all fax documents stored in memory are lost. If documents are lost for this reason, a Power Failure Report is automatically printed when the operation switch is turned on. Use this report to check the list of lost documents. See "Turning Off the Main Power / In the Event of Power Failure", Troubleshooting.

This function is unavailable with Immediate Transmission. Use Memory Transmission.

Place the original, and then select the scan settings you require.

Press [TX Mode].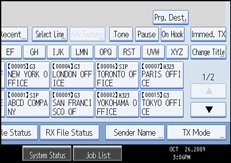 Press [Send Later].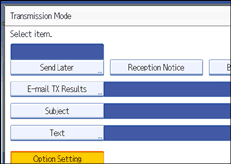 Enter the time using the number keys, and select [AM] or [PM]. Then press [OK].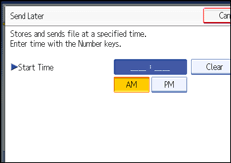 When entering numbers smaller than 10, add a zero at the beginning.
If you make a mistake, press [Clear] before pressing [OK], and then try again.
To cancel Send Later, press [Cancel]. The display returns to that of step 3.
The specified time is shown above the highlighted [Send Later].

Press [OK].
The standby display appears.
To check the settings, press [TX Mode].

Specify a destination, and then press the [Start] key.

You can specify a time within 24 hours of the current time.

If the current time shown is not correct, change it using [Set Time] under [System Settings]. For details about the setting, see "Timer Settings", Network and System Settings Reference.

You can program one of the Quick Operation keys with operations for this function. Using the Quick Operation Key allows you to omit step 2 and 5. For details about Quick Operation Key, see "General Settings".

You can cancel the transmission setup for Send Later. See "Canceling a Transmission".