Sending by Internet Fax (Internet Fax Destinations)
This section explains how to specify an Internet Fax destination.
When using Internet Fax transmission, specify the e-mail address (Internet Fax destination) in place of the fax number.
You can also enter a computer's e-mail address as the destination. In this case, you can send TIFF files only.

To send an Internet Fax, you must specify the sender.

The sender must be registered in the Address Book in advance. Register his/her e-mail address and specify "Use Name as" for [Sender] using "Address Book Management" in "System Settings". For details about these settings, see "Registering Addresses and Users for Facsimile/Scanner Functions", Network and System Settings Reference.

Internet Fax is performed using Memory Transmission, which automatically starts transmission after storing documents in memory. If you switch the type of transmission to Internet Fax while the machine is in Immediate Transmission mode, the transmission mode is automatically switched to Memory Transmission.

Press [Internet Fax] to switch the transmission type to Internet Fax.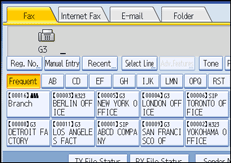 Specify the sender.
For details, see "Sender Settings".

Press [Manual Entry].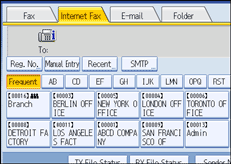 Enter the Internet Fax destination, and then press [OK].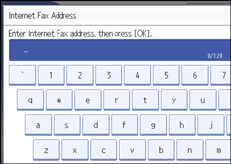 If you enter an incorrect character, press [
], [
], [Backspace], or [Delete All]. Then, re-enter the characters correctly.
To change the e-mail address after pressing [OK], press [Edit Dest.], re-enter an e-mail address, and then press [OK].

To add a destination, press [Add].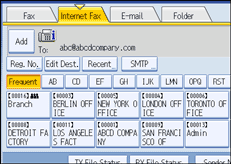 Specify the next destination.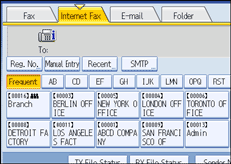 To add another destination, repeat steps 5 and 6.
Press the transmission type tab to switch the transmission type between fax/IP-Fax, Internet Fax, e-mail, and folder.

Press the [Start] key.
The machine starts to scan the original and stores it in memory. When scanning ends, the Communicating indicator lights and transmission starts.

Depending on the security settings, [Manual Entry] might not appear and you might not be able to enter the e-mail address.

To select a destination from the Address Book, see "Using the Address Book to Specify Destinations".

For details about text entry, see "Entering Text", About This Machine.

For details about canceling a transmission, see "Canceling a Transmission".

The Facsimile Features menu includes a user parameter setting (switch 17, bit 2) that enables you to configure the machine to force the user to press [Add] whenever s/he specifies a destination using a destination key. This prevents users accidentally sending documents to the wrong destination. See "Parameter Settings".

If you press [Prg. Dest.], you can register an entered destination in the destination list. For details about programming destinations, see "Registering Entered Destinations to the Address Book".

For the maximum number of digits that can be included in a destination, see "Maximum Values".

When the sender is specified, the transmission result etc. is sent to the sender's e-mail address.

If "Auto Specify Sender Name" is set to "On" in "System Settings", the sender is automatically specified and you can omit the procedure for specifying a sender. If "On" is selected, either the administrator's or this machine's e-mail address appears in the "From" field. For details about Auto Specify Sender Name, see "File Transfer", Network and System Settings Reference.

If "Auto Specify Sender Name" is set to "Off" in "System Settings" and no e-mail address is registered for the sender you specified, Internet Fax documents cannot be sent.

Related topics
Bypassing the SMTP server