Selecting the File Format
This section explains how to select the file format when sending a fax to an e-mail destination or folder destination. There are two file formats to select from:

Press [E-mail] or [Folder] and press [File Type].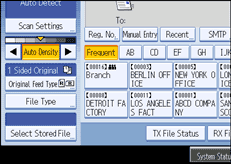 Press [TIFF] or [PDF].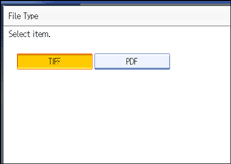 The default setting is TIFF format.

Even if you specify a format for files being sent to fax, IP-Fax, or Internet fax destinations, the files will not be converted to the format you specify.

For details about an e-mail destination, see "Sending an E-mail (E-mail Destinations)".

For details about a folder destination, see "Sending to Folder Destinations (Folder Destinations)".