Scanning Two-Sided Originals
Use this function to send two-sided originals.
The front and back of the scanned original will be printed in order on separate sheets at the other end. The orientation of alternate sheets may be reversed at the other end. If you want to print the original with the same orientation at the other end, specify the "Original position" and "Page opening orientation".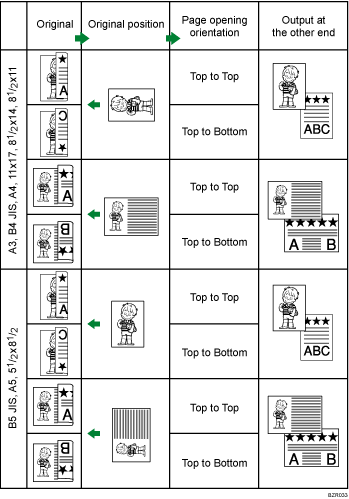 When you use [2 Sided Original] under [Original Feed Type], the originals cannot be sent by using just the exposure glass.

Two-sided originals are only sent with Memory Transmission. Immediate Transmission is not possible.

Place the original, and then select the scan settings you require.

Press [Original Feed Type].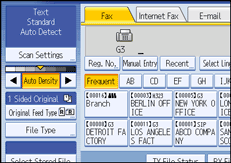 Specify the original orientation.
Check the orientation of the placed document, and then press [
] or [
].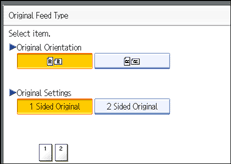 Make sure that the specified original orientation matches the orientation of originals loaded in the ADF.

Press [2 Sided Original].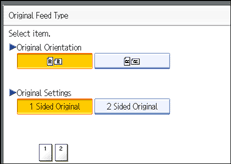 Select [Top to Top] or [Top to Bottom].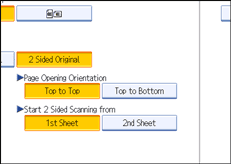 Select [1st Sheet] or [2nd Sheet].
To cancel two-sided transmission, press [1 Sided Original]. The display returns to that of step 4.
Select [2nd Sheet] if you want to send a cover sheet as the first page.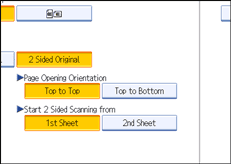 Press [OK].
appears above [Original Feed Type].

Specify a destination, and then press the [Start] key.

You can confirm whether both sides were properly scanned using the Stamp function. For details about Stamp, see "Stamp".

For details about acceptable original size and paper thickness for two-sided scanning with the ADF, see "Acceptable Original Sizes".

You can set the original feed types that are selected right after the power is turned on or whenever the [Clear Modes] key is pressed. See "Changing the Default Functions of the Fax's Initial Display".