You can send a fax from your computer over the network (Ethernet or wireless LAN) to this machine, which then forwards the fax via its telephone connection (LAN-Fax).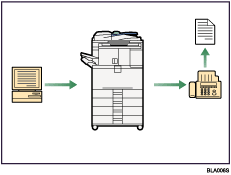 To send a fax, print from the Windows application you are working with, select LAN-Fax as the printer, and then specify the destination.

You can also check the sent image data.

For details about the machine's settings, see "Network Settings Required to Use the Printer/LAN-Fax", Network and System Settings Guide.

For details about how to use the function, see "Fax via Computer", Facsimile Reference.