Press [Store File].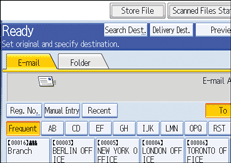 Select [Store to HDD + Send].

If necessary, specify the stored file's information, such as [User Name], [File Name], and [Password].
For details, see "Specifying File Information for a Stored File".

Press [OK].

Specify the destination, make any other necessary settings, and then send the e-mail.
For details about sending a file by e-mail, see "Basic Procedure for Sending Scan Files by E-mail".

Press the [Start] key.