If files could not be stored due to printing errors, identify the cause of the errors by checking the error log on the control panel.

Press the [Printer] key.
The printer screen appears.

Press [Error Log].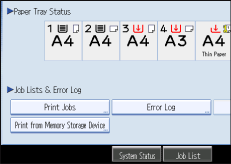 An error log list appears.
Depending on the security settings, certain errors may not be displayed.

Press the desired job list.
You can select job list from [Complete List], [Locked Print Job List], [Sample Print Job List], [Hold Print Job List], or [Stored Print Job List].

Select the print file you want to check, and then press [Details].
A detailed error log appears.
Press [
Previous] or [
Next] to scroll the error files.