Make sure that the machine is in facsimile mode and the standby display is shown.
If the standby display is not shown, press the [Facsimile] key.

Place the original.

Press the [Program] key.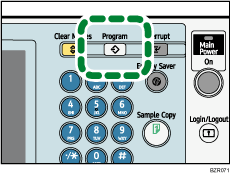 Confirm that [Recall] is selected, and press the registered program number.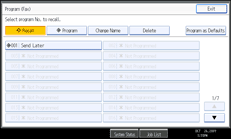 The standby display appears.
The programmed fax number appears and the registered settings are recalled.

Press the [Start] key.
The machine starts to scan the original.
Then, transmission starts with the recalled transmission settings.