Memory Transmission/Immediate Transmission, transmission type, destinations (except for folder destinations), Original Type, Resolution, Scan Size, Mixed Original Sizes, Auto Density, Manual Density, Original Orientation, Original Settings, Stamp, Select Line, SUB/SID/SEP/PWD Code entry, Send Later, Reception Notice, BCC Transmission, E-mail TX Results, Text, Standard Message, Auto Reduce, Label Insertion, Closed Network, SUB Code Transmission, SEP Code Reception, Fax Header Print, TX Status Report, Store File, File Type, Preview before transmission

Program name
The following procedure explains using Send Later with the fax number "0123456789" as an example of how to register a program.

Make sure that the machine is in facsimile mode and the standby display is shown.
If the standby display is not shown, press the [Facsimile] key.

Make the settings you want to register in the program.
The procedure for programming differs depending on the items you want to register.
Press the [Clear Modes] key to cancel programming.
Press the number keys [0], [1], [2], [3], [4], [5], [6], [7], [8], [9], and then continue doing the Send Later setting until the standby display appears when you press [OK].

Press the [Program] key.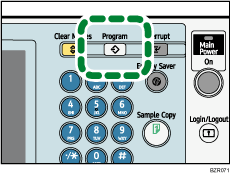 Press [Program].
When no programs are registered, proceed to step 5.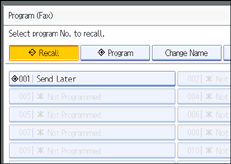 Select a program number in which "Not Programmed" is shown.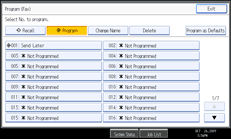 If you make a mistake, press [Cancel] and select a program number again.
When you change a Keystroke Program, press [Yes] after pressing the program number you want to change. If you make a mistake, press [No] and try again.

Enter the program name, and then press [OK].
The standby display appears.
If the program name is already registered, the name is displayed. To change the program name, press [
], [
], [Backspace], or [Delete All], and then try again.
You should register the program name.
To cancel a program, press [Cancel]. The display returns to that of step 5.