Specify the destination using the number keys or Destination keys, and then press [OK].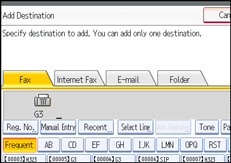 Press the transmission type tab to switch the transmission type between fax/IP-Fax, Internet Fax, e-mail, or folder.
If you specify a sender whose e-mail address is already registered, you can add Internet Fax destinations and e-mail destinations.
You can add a folder destination only with Destination keys.
You can also program a SUB Code or SEP Code by pressing [Adv.Features].