Memory Transmission mode has standard fax, Internet Fax, IP-Fax, e-mail transmission, and folder transmission.

Make sure [Immed. TX] is not highlighted.
Normally Memory Transmission mode is selected.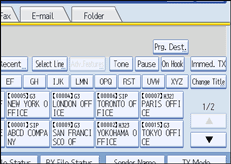 Place the original into the ADF.

Make the scan settings you require.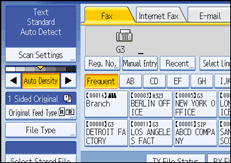 For details about the scan settings, see "Scan Settings".

Using the number keys or a Destination key, specify a destination.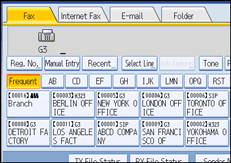 If you make a mistake, press the [Clear/Stop] key, and then enter the correct number.
For details about specifying a destination, see "Specifying a Destination".

When sending the same original to several destinations (broadcasting), press [Add] to specify the destinations.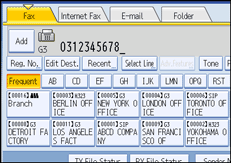 You do not have to press [Add] when adding a destination using the destination list.

Specify the next destination.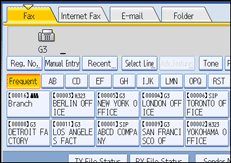 Press the transmission type tab to switch the transmission type between fax/IP-Fax, Internet Fax, e-mail, and folder.
Multiple transmission types can be specified simultaneously.

Press the [Start] key.