Date Stamp
Use this function to print dates on your copies.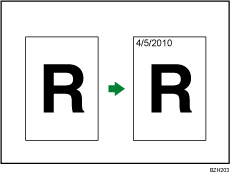 You can select from the following styles:
MM/DD/YYYY

MM.DD.YYYY

DD/MM/YYYY

DD.MM.YYYY

YYYY.MM.DD
Stamp position and original orientation
The date stamp positions differ according to the orientation in which you place the originals.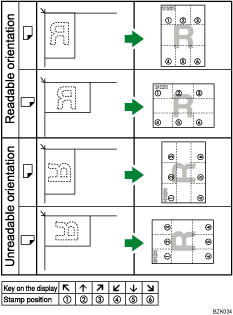 Press [Edit / Color].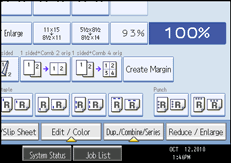 Press [Stamp].

Press [Date Stamp].

Select the stamp format.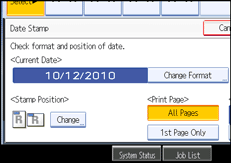 You can change the color, style, and position of the date.

Press [All Pages] or [1st Page Only] to select the print page.

After making all settings, press [OK].

Press [OK].

The default color is black.

You can change the settings for Date Stamp under Stamp in User Tools. For details about Stamp, see "Stamp".

When Date Stamp is used with the Combine, Magazine, or Booklet function, the date stamp is printed as follows:

With the Combine function

With the Magazine or Booklet function