Background Numbering
Use this function to have numbers printed on the background of copies.
If this function is used in conjunction with Sort, the same numbers are printed on each set of copies, helping you keep track of confidential documents.

Press [Edit / Color].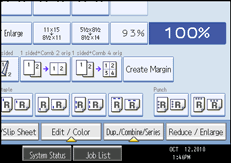 Press [Stamp].

Press [Background Numbering].

Enter the number to start counting from with the number keys, and then press [
].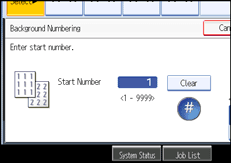 You can change the stamp color.

Press [OK] twice.

To change the value you entered, press [Clear], and then enter a new value.

When the Full Color is selected, the full color counter will advance by "1".

The default color is black.

You can enter a number between 1 and 9999.

You can change the settings for Background Numbering under Stamp in User Tools. For details about Stamp, see "Stamp".

The numbers appear to overlap the copied image in some cases.
Related topics
Changing the stamp color