Original Orientation
You can specify the original orientation if necessary.
When using the exposure glass, place the original face down. When using the ADF, place it face up.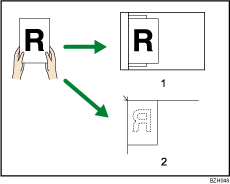 ADF

Exposure glass
When you cannot place the original as the above, you may not make copies as you want with particular functions. If this happens, change the orientation by selecting the unreadable orientation.
Readable orientation

Select this mode when the original orientation is the same as the copy paper orientation.

Unreadable orientation

Select this mode when you want to copy A3, B4 JIS, or 11 × 17 size originals. The machine rotates the copy image by 90 degrees and you can make copies as you want.

This is useful for copying large originals with the Staple, Duplex, Combine or Stamp functions.

For example, to copy A3 or 11 × 17 originals with the Staple function selected:

Press [Special Original].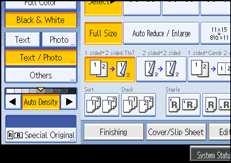 Select the original orientation, and then press [OK].