When copying onto special paper such as OHP transparencies, and thick paper, select the type and size of paper.

Open the bypass tray, and then insert the paper face-down until you hear the beep.

Align the paper guides to the paper size by pinching the clip.

Press [Bypass], and then press the [
] key.

Select the paper type in Special Paper.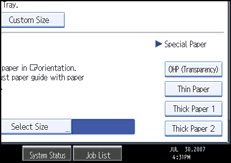 Specify the paper size, and then press [OK].

Place the originals, and then press the [Start] key.