Registering the Initial Display's Default Functions
You can configure the settings of the initial screen so that the default display contain the functions you use most often.
For example: if the default selection is the Duplex function, but the function you use most frequently is 1-sided copying, you can change the default selection to 1-sided copying instead.
The settings you can program as defaults are Paper Tray, Original Type, Density, Special Original, Original Orientation, Cover/Slip Sheet, Edit / Stamp, Dup./Combine/Series, Reduce / Enlarge, Finishing, and the number of copies.

Specify scan settings and any other settings you require on the initial display.

Press the [Program] key.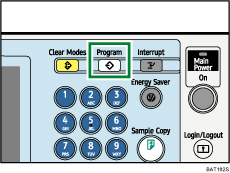 Press [Program as Defaults].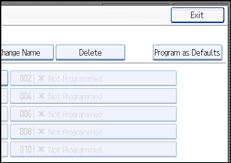 Press [Program].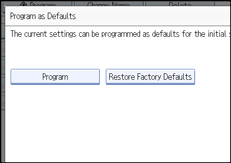 When a confirmation dialog appears, press [Yes].
The current settings are programmed as defaults. The screen returns to the initial display.

To restore the factory default settings on the initial display, press [Restore Factory Defaults].

The default settings can be programmed separately for the normal screen and simplified display screens.