Insert the paper face
down until you hear the beep, and then align the paper guides to the paper size by pinching the clip.
If the paper size of the paper guide and the paper do not match, skewing and misfeeds might occur.
Do not stack paper over the limit mark, otherwise a skewed image or misfeeds might occur.
Open out the extender to support paper sizes larger than A4
, 81/2"
11"
.
Fan the paper to get air between the sheets to avoid a multi
sheet feed.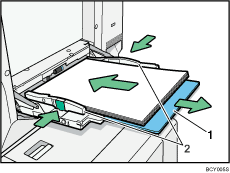 Extender

Paper Guide